Why Foreign Investors are Pouring into Kenya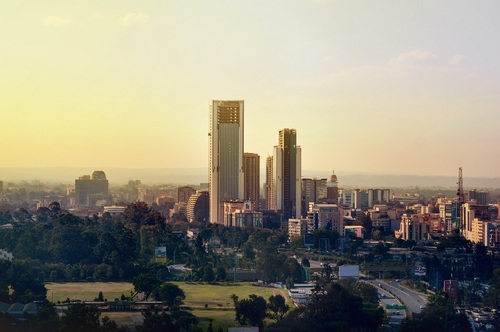 Sabeeh Ahmed | May 18, 2021
In Kenya, Nairobi, there stands a futuristic blue Koko machine that dispenses ethanol for families to cook with. Koko chose Nairobi as a location for creating a technology-enabled solution for Africa's persistent cooking fuel problem, and has successfully installed over 700 machines across the city. Koko follows suit with many other startups and foreign investors that are seeing Kenya's growing private sector as a breeding ground for technological success.
Factors contributing to this growth in Nairobi stem from cultural acceptance of technological solutions, government support, geographical location, and homegrown technological talent. Kenyans accept technology as a means to improve their lives with open arms, as demonstrated by the advent of M-Pesa, a mobile money platform used in over 70% of Kenyan households and that measured over 12.2 billion transactions in 2020 alone, doubling from 2017. Alternatively in 2019, the country had captured 95 greenfield investments valued at $4bn from foreign companies including Microsoft and Cisco. This mass consumer and industry adoption of tech shows a massive opportunity for foreign companies to capitalize on an increasingly progressive demographic.
Note: * Greenfield Investments are a form of Foreign Direct Investment (FDI) in which a parent company starts a new venture in a foreign country by constructing new operational facilities from the ground up.
Companies like Microsoft, Cisco, and Koko did not choose Kenya solely for its openness to technology. Concerted government efforts that reduce restrictions and capitalize on Kenya's geographic location also play a critical role for decision-makers. Regulatory reforms reduce the cost of doing business and provide legislative support for booming industries. The laissez-faire legislation allows businesses to take full advantage of Kenya's location respective to the rest of booming East/South Africa and make it a regional hub because of its developed financial, communication, and transport infrastructure. The combination of these three factors with a low cost of business and convenient geographic location gives corporations access to the entirety of East/South Africa's massive market, totalling over 760 million consumers through EAC and COMESA coalitions.
Taking Koko as an example again, ethanol was previously restricted as a cooking fuel. With government cooperation, those restrictions were lifted and an entire set of standards were drafted for a whole new industry. The founder of Koko also piloted the programme in Mozambique but found that Kenya would be the best place to start, largely because of the government and location. Taking this chance in Kenya has yielded them over 700 machines in the country and a proof-of-concept to fuel realistic expectations to expand to Uganda and DRC in coming years.
Kenya is slightly different from Uganda and the Democratic Republic of the Congo (DRC) in terms of talent. Cultural acceptance of technology, government, and geographic location are all optimized for commercial success in Kenya, but all are rendered useless in absence of talent occupying high-paying jobs in a mature, technology-driven economy. Among all the highest performing East African countries, Kenya comes out on top in quality, scoring 181.22 on the fDi Benchmark, double of second-placed Uganda. The reason for this powerful score is that Kenya possesses an abundance of highly skilled labourers whose basic business development needs are met. To many companies, this adds to the list of reasons to make Kenya a regional hub to target the East/South-African market. Effectively, Kenya functions like an Amazon fulfillment center for all of East/South-Africa, exporting and importing knowledge and physical goods for all 760 million East/South-African consumers (EAC & COMESA).
All of these factors make Kenya an enticing location for foreign investment in an emerging market. Kenya is already looking to the future, with plans in Kenya Vision 2030 to increase FDI's with legislative reforms and allow more companies like Koko, Microsoft, and Cisco to find a home, while also promoting private foreign investments to emerging unicorn startups.
Image credit to Amani Nation on Unsplash
References
Wilson, Tom. "Kenyan Cooking Start-up Uses Tech to Cut Costs and Save Lives." Subscribe to Read | Financial Times, Financial Times, 1 Nov. 2019, www.ft.com/content/c7c62ca6-d556-11e9-8d46-8def889b4137.
Fingar, Courtney. "Kenya's Reputation for Quality Leads Companies to Choose Nairobi." Subscribe to Read | Financial Times, Financial Times, 1 Nov. 2019, www.ft.com/content/367907d0-d558-11e9-8d46-8def889b4137.